Children don't have to be told to be afraid of the dark. When we enter the world, we immediately fear what we cannot explain and what we cannot see. In response, we become aware of light switches. We reach for them with the expectation that they'll always be there. This fear is wired deep inside the logic we use to interpret our world. As we grow up, we count on that logic to apply to our lives. We panic when the intricate and logical plans we've laid for our lives fall out from under us. We want to flip on the light to see, to understand why the light went out. What do we do when there is no switch? When there is no 'why'?
My plan was to get married, serve in ministry, teach school, and have a big family—all before thirty. Fertility clinic patient lists, the local foster mom group, and adoption agency profile photos were never places I saw myself. When our original plan failed, we laid intricate plans to solve our childlessness that have fallen out from under us more than once. When the test was negative yet again and the doctor blabbed about puzzling results, the haze rolled in. When the social worker called to inform us that yet another child would not be a part of our forever family, the haze rolled in. When the paperwork fell through and all we had left was a pinned email containing a photo and referral, the haze rolled in. The thick lenses of my valiant set of glasses remain intact, but they are inferior to the darkness. It rolls in and envelopes what should make sense; all logical explanation fades away. Why? There has to be a reason we're still childless. The reason becomes elusive; it's the switch we cannot find. If we could just find it and turn on the light, then we could see, we could understand, and we would be okay. The search becomes consuming. It consumes love, joy, peace, patience, kindness, gentleness, and self-control. This unrelenting yearning becomes an alienating obsession. The longer we search, the further we drift from the truth.
Jesus is the truth.
He says in the gospel of John, "I am the light of the world. Whoever follows me will not walk in darkness, but will have the light of life" (John 8:12). When Jesus spoke these words he was speaking to the Pharisees. We have more in common with these men than you may expect. After all, they were once children who were afraid of the dark, too. These well-meaning, intelligent men had plans, too—good, noble plans to grow the Sanhedrin and serve God's people. Their relationship with logic was deep-seated in tradition, proven practices, and prestige. These tenets allowed them to function effectively until a young man named Jesus switched on the light unveiling a truth they could not explain with their logic. In their pursuit of an explanation, they embraced the darkness (John 8:13-30). The logic they so desperately desired led them deep into the haze. What they found deep in that darkness would lead them to murder that young man. Jesus' death secured our salvation.
To those who believe in him, Christ says, "If you abide in my word, you are truly my disciples, and you will know the truth, and the truth will set you free" (John 8:31-32). Sweet friend, this freedom is for you. Over time our eyes adjust to darkness, but they will never see clearly without the light. The truth is the only way out. We must accept that there is no answer in the darkness. The reason you've never seen yourself as the woman in the fertility clinic, the wife in the foster care classes, or the mother-to-be in that adoption profile photo is because the darkness hides the beauty of the unexpected, the majesty of God's plan, and the truth that is the light. The Light of life is waiting to revive us if we surrender the pursuit of 'why.' We have a place to abide as we heal. Even if our wombs remain barren and our homes remain quiet, we have a purpose—we are truly his disciples. Christ guarantees that we will know the truth. He does not guarantee we will know the 'why.' In order to walk in freedom, that has to be enough.
Reflection
Sister, it's time for you to abide in the Word. There's a list of Scripture for you below. Commit the next five days to reading them, writing them, arting them all over your house; steep in his truth. Embrace discipleship as your eyes adjust to the truth. Seek out relationships that you can lean into as you walk out of the haze. Take action against the haze when it resurfaces by speaking the truth over yourself. Freedom in the Light of life is waiting for you.
Day One
Ephesians 2

Day Two
1 Peter 2

Day Three
2 Corinthians 5

Day Four
Romans 8

Day Five
Colossians 3
Photo credit: Emilee Carpenter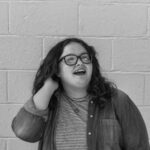 Sarah spends her days in the classroom as a middle school social studies teacher, her nights on the sidelines as a coach's wife, and all the moments in between serving as a youth pastor. She recently achieved her dream of graduating from Liberty University Theological Seminary with a masters degree in Christian Leadership. She cannot wait to put it to good use helping young women take their place as leaders in the church.