In the waiting, Jesus is brought to the highest of heights; he is exalted above it all. David leaves us with encouragement to hold onto. We see from the Hebrew word "to wait" that waiting binds together; it looks, expects, and hopes together. Waiting on God is being bound together with God. It is clear we are never alone, even in the waiting. When God feels distant or when it's hard to hear his voice, we are still bound together with him. Waiting is hoping with God and trekking through with God. This waiting on God is not passive, it is active. You see, we know that as we relentlessly pursue him, as we live in him, seek him, and stand in him, then we will encamp with him. His presence will be made known, and he will sustain us in every moment.
Charles Spurgeon said this: "Wait at his door with prayer; wait at his foot with humility; wait at his table with service; wait at his window with expectancy."1 When we look back at the words in Psalm 27, these words from Spurgeon so powerfully point us to the way of Jesus in our trek. We are called to wait in prayer, wait with humility, wait with him and serve, and wait on him expectantly.
Waiting on the Lord brings us that much closer to his feet. We must press in, trusting that as we trek through this terrain, we don't actually have to see the tops of the peaks or the depths of the valleys. Each step, whether steady or unsteady, simply must be a step of faith.
"Wait for the LORD and keep his way,
and he will exalt you to inherit the land;
you will look on when the wicked are cut off."

Psalm 37:34
In this waiting, we trek through with our hearts, taking courage, prevailing, and pressing on in and through Christ. It is with unwavering faith that we trek through, never leaving the path that he has set us on, moving steadily in his ways. By faith, we go to the place that he asks of us knowing that we can depend on him every step of the way. We get there through Jesus. We can rest, waiting in silence, knowing that our hope is in him.
"But they who wait for the LORD shall renew their strength;
they shall mount up with wings like eagles;
they shall run and not be weary;
they shall walk and not faint."

Isaiah 40:31
Isaiah 40:31 tells us that we will get a fresh strength when we wait upon the Lord. How powerful to grasp that in the waiting God is renewing us. When we are waiting with God, even when it seems like we might be waiting on God, it is through him that we do not grow weary. David so clearly shows us that as we relentlessly pursue the Lord, as we chase after God's heart, we will gain the full confidence of strength through him that is necessary to carry us.
He will deliver us.
In terrain that is the wildest, in terrain that is the most rugged, he prepares us.
He sustains.
He is active in his delay.
He refines.
He grows.
He sets the path ahead.
He fulfills his Word.
What if, no matter what, we trekked on, living, seeking, and standing, with a relentless awareness of the Lord?
We shall forge ahead. His glory is at hand. Seek his face. A yielded, relentless pursuit of God reveals that he is in this place. The weight is then shifted: his presence over our position in the terrain. Knowing that we are with him is of far greater value than where we are in the trek. It spurs us on to exalt him over anything in the trek. Our awareness of him propels us to recount his faithfulness and the depths of our dependence on him.
He finds you in the trek.
He surrounds you there.
He brings the fields to feast on.
He remains.
His goodness is running after us.
His glory is paving the way.
Surely the Lord is in this place.
Exalt the Lord in the waiting.
Field Notes
Read all of Psalm 27.
Re-read verse 14.
Write out Psalm 27:14.
Meditate on the verse.
Underline, highlight, or write any words or phrases that God is illuminating.
Underline, circle, or highlight any transitional words or phrases.
What do you learn about God?
What theme(s) do you see?
What does God call you to do or be?
Take the next few minutes to pray through Psalm 27:14. As you pray through the verse, spend time writing out a prayer as you read and expand on this verse.
Prayer
Lord, you are our banner. We are rescued and identified in you. Lord, as we follow you we get to fly the flag of truth; we will rally to it. We pause and acknowledge your presence today. Lord, come with your might and strength. Lord, put me in the place you desire to build up your kingdom. I give you all the praise and the glory. Lord, you are my expectation—nothing else. Lord, may I dwell in the abundance of only you, for you paid it on the cross for us so that we may be transformed in your everlasting love. Perhaps we cannot see you in this place, but our faith is so strong that we know you are here. When we lean in close, your gentle whispers speak life over our days on earth until we meet in eternity. Lord, your will be done, your kingdom come. Amen.
Footnotes
1 Charles Haddon Spurgeon, The Treasury of David: Containing an Original Exposition of the Book of Psalms, (United States: I.K. Funk & Company, 1882), 2:6.
Photo credit: Emilee Carpenter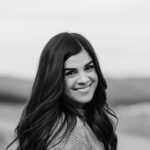 Jennifer is a wife, mama, author, Bible teacher, speaker, and, most importantly, a follower of Jesus. You can find her enjoying a cozy cup of coffee with a book and journal in hand, soaking in all the adventures of homeschooling, and exploring the mountains of Colorado with her husband, Jonathan, and their two children. She truly loves to share God's goodness in his plan, his path, and his pace no matter the terrain, and pointing people to him through her online ministry and local community.