Remember not the former things, nor consider the things of old. Behold, I am doing a new thing; now it springs forth, do you not perceive it? I will make a way in the wilderness and rivers in the desert.

Isaiah 43:18-19
This verse will never ring more true than when you're in a season where everything is in fact new! I recently moved from Ohio to Texas, and I find myself comparing the people, grocery stores, traffic, weather, coffee shops (and the list goes on) to the ones in Ohio. When you're in a new season, you will find yourself comparing it to the old because it's all you've ever known. It's natural to compare and contrast as you ponder on what was. But what do you do when the past inhibits you from walking fully in your new season? How do you adapt well to what's in front of you? Why is it sometimes easier for us to have grace for others but not for ourselves? Here in the new, I've found grace to be essential for myself each day
Isaiah 43:18-19 is asking us to perceive what is coming forth and to look at what God is doing. To perceive means, "to attain awareness or understanding; to become aware of through the senses." 1 When I read those words "through the senses," I think of the Lord asking us to perceive with the help of the Holy Spirit. Through the Spirit, we can become more aware of what is springing forth in this new season.
Verse 19 continues: "I will make a way in the wilderness and rivers in the desert." Another thing about perception is that things often have a way of not looking as they actually are. An example of this is parallel parking. Some love it, and others cringe at the thought . Just the other day, I pulled up to a coffee shop where I had to parallel park. As I was maneuvering my Honda CR-V, inching my way back and forth, I thought, There's no way I can fit in this spot. That's when I turned my head and saw the reflection of my car in the glass store front and realized I actually had plenty of space! I then used the reflection as my guide. (This is not an article on how to parallel park, though if that tip helps, use it!)
I love what 2 Corinthians 4:18 says: "As we look not to the things that are seen but to the things that are unseen. For the things that are seen are transient, but the things that are unseen are eternal." If the things that are unseen are actually eternal, then those things should have more weight in our lives than things that are seen. We should be actively perceiving things of eternity in our everyday lives. When there doesn't seem to be a way through, God supernaturally gets us to the other side. When our minds are unraveling with thought after thought and lie after lie, the truth of his Word brings clarity. When there appears to be no way out, no other option, and no plan B, our God creates rivers in the desert.
In this new season, ask yourself these questions:
Where am I heading?
What should my priorities be in this season?
What are some things that keep me from looking forward?
Upon entering a new season, you may have heard these verses in Matthew 9:16-17: "No one puts a piece of unshrunk cloth on an old garment, for the patch tears away from the garment, and a worse tear is made. Neither is new wine put into old wineskins. If it is, the skins burst and the wine is spilled and the skins are destroyed. But new wine is put into fresh wineskins, and so both are preserved." There is a new wineskin available for the new wine.
What a beautiful illustration! We can view this season as the new wineskin and all that God wants to do in this season as the wine. He's giving us this brand new piece of cloth. Pick your color; choose your fabric! But do not sew it onto the old garment. Do not attach it to the previous season, for he's doing something new. What happens when we attach the new to the old? When we pour the fresh wine into the old wineskin? Nothing new will be produced, for both options hinder what God is doing.
In order to fix our gaze on what's ahead, we must focus on the decisions we're making and what we're allowing our minds to dwell on. The enemy would love to keep you looking backward. Do not let him steal your joy. "Let your eyes look directly ahead and let your gaze be fixed straight in front of you" (Proverbs 4:25). The first several weeks after moving to my new city, I was running on adrenaline. Everything seemed exciting because it was new! But eventually, reality set in, and the truth of all that I left behind finally hit. While it's okay to grieve and miss what's familiar, I knew it couldn't be my focus. That's why I choose to gaze onward.
If you're in a similar season, my prayer for us is this:
"Jesus, would you help us as we walk into this new season? We feel so many emotions. We feel excitement, great anticipation, and wonder. But it's also easy for us to give into doubt about what this season might hold. Holy Spirit, help us perceive what you're doing in our midst. We want to see with the eyes of heaven. And when our gaze tries to keep us looking on the past, move our gaze onto you. By your strength, we let go of any memories of the past that we are not to carry into the future. We let go of the memories that keep us entangled. You are our very present help and are all that we need. In your name, amen."
Footnotes
1 Merriam-Webster.com Dictionary, s.v. "perceive," accessed January 24, 2023, https://www.merriam-webster.com/dictionary/perceive.
Photo credit: Emilee Carpenter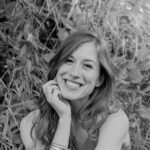 Katelyn Motsinger is the creator of Under the Canopy Online—a blog and small business. Whether it be through her poetry, songs, or devotionals, her greatest hope is that her words would reconnect the Father's heart to yours. For more of her writings, visit http://www.underthecanopyonline.com or follow @underthecanopyonline on Instagram.