Have you ever felt stuck? Have you ever felt like it was all too much to handle and the only answer was to "get out"?
I certainly have.
My childhood and adolescence was far from normal. I was adopted from the Philippines into an American white middle-class Christian family. When I was in middle school, my parents decided to start doing foster care. We took in kids from broken families, and our lives were turned upside down. The chaos of our family home life was overwhelming, and figuring out how to cope with it felt insurmountable.
In 2013, I began to experience regular panic attacks while in college and was struggling through chronic depression. I was overwhelmed as my life felt directionless and it felt like it would be easier to just end it all.
People would remind me of the Lord's promise: "I know the plans I have for you….plans for welfare and not for evil, plans to give you a future and a hope" (Jeremiah 29:11).
But what happens when you struggle to believe in those promises? What do you do when you feel there's nothing left to give, and that continuing to live life feels pointless? Where do you go when ending your life seems like the easiest way out?
In Deuteronomy, Moses tells Israel to "Be strong and courageous…for it is the Lord your God who goes with you. He will not leave you or forsake you" (Deuteronomy 31:6).
Who do you turn to when being strong and courageous seems nearly impossible?
Life doesn't come wrapped neatly with a bow on top. Life is messy and full of hurdles, heartbreaks, and loneliness.
But God has promised to step into it all with us. And he's given us tools to help us combat the fight against mental illness.
—-
I struggle with suicidal ideation. I have regular panic attacks and chronic depression. However, I know I can have victory over it all—even if that victory doesn't come today.
You see, there is a very clear tension between our struggles with mental health and our experience of God. God doesn't always give us a clear answer; he doesn't always immediately deliver us from our trials. But he does have victory over it all.
King David in the Bible is a beautiful reminder of this tension. In Psalm 13, David repeatedly cries out to the Lord, "How long?" He keeps asking why the Lord hasn't shown himself, and why he must continue to wrestle with intrusive thoughts and the deep sorrow in his heart. But at the end of the Psalm, David speaks confident words of praise about how the Lord has been good to him, and how he still trusts God. Because God has already won those battles—even if the day of deliverance hasn't come yet.
One of my favorite things the Psalms portray is how there can be equal parts sorrow and joy. We can cry out to the Lord in confusion as to our circumstances, but we can also praise him in knowing that he holds all things together in his hands, even when they make no sense.
After all, those things may never make sense. But while we have faith in how God will work in our lives, and with our mental health, we can also take practical steps to live fully in that trust today.
Ways to Live in Trust of God
Be Active
God created our bodies to move and do things. I really love to run, and have found that I'm best able to process my emotions when I go for a two mile run in warm spring weather. From a scientific standpoint, when we are active our bodies release endorphins and dopamine, which both increase our brains' experience of happiness, while also decreasing the experience of dissatisfaction. While this happiness isn't everlasting (and pales in comparison to the true joy we find in Jesus), it CAN help us right now! It's truly miraculous the way God has created each and every one of us so intricately1 and how the biological processes of physical activity can provide a natural relief to depression, anxiety, and other forms of mental illness.
Take Medication
Sometimes mental illness is simply a result of an imbalance in brain chemicals. Taking medication may help us manage these improper balances. There are multiple references in the Gospels where Jesus speaks of the sick needing a physician.2 Just as we might treat a bacterial infection with an antibiotic, we can similarly treat mental illnesses with proper medication. This doesn't mean all people with mental illness need medication, or even should take medication. However, I do believe that it's helpful to recognize that taking medication isn't a sign of not trusting God or his promises. Instead, we often hear of Jesus being referred to as the Great Physician. He performed miracles and healed the sick. And similarly, he's provided us with tools—such as medication—that can aid in our healing of our mental illnesses.
While we may not have physical or mental healing today, we know that in light of the gospel, there is redemption for our souls, and one day we will have complete healing as all things are made new.3 And when it feels to all be too much, he will provide that rest for our weary souls.4
Find Community
Sometimes when we struggle with mental health, we feel incredibly isolated and alone. I know that I've often felt like I'd just be a burden to someone else, or that sharing my story would only further estrange me from the people I believed didn't care about me. In the book of Galatians, the Apostle Paul speaks of how we ought to "bear one another's burdens" (Galatians 6:2). Similarly, in 1 Thessalonians, he speaks of how we ought to "encourage one another and build one another up" (1 Thessalonians 5:11). This means, as Christians, we're supposed to be in community with one another in such a way that we can support each other even when we're struggling with mental illness. As the church, we're called to be there when our brothers and sisters are walking through these trials and to love one another with the love of Jesus Christ.
Rest on the Promises of God
Although they may not immediately solve our problems (we may still experience depression or struggle with anxiety), the promises of God in Scripture are where we can find the boldness and courage to live without fear of our mental illness. What does this mean for us? It means that my brain may always have a chemical imbalance that contributes to panic attacks or suicidal ideation. It also may mean that, at times, I will feel uncertain that things will get better. My battle with mental illness may never fully subside while on this side of heaven, but it also means that I can live in the freedom and hope of God's promises for me.
If you're unsure of where to start when it comes to his promises, I highly recommend going to the Psalms. Most often, the Psalmists are writers, poets, and musicians who are voicing the sorrow and weariness in their hearts to God. But what is particularly encouraging is that while they express sorrow, they're equally reminding their readers of all the ways God has cared for them, is caring for them, and how he will continue to care for them.
Psalm 23 is a personal favorite when it comes to being reminded of who the Lord is, and how I can have hope in Him. When David says, "He restores my soul," in verse 3, he is living in the promise that God is continually restoring him day in and day out.
Similarly, John speaks in his Gospel of how Jesus has promised us, "In the world you will have tribulation. But take heart; I have overcome the world" (John 16:33). We are promised that things will be hard and that life will contain many trials, but we can turn to the Scriptures and the promises of Jesus as we know he has already won—victory over all of it.
Below is a list of verses that I like to keep handy for when I'm struggling the most with my mental health:
"I lift my eyes up to the hills. From where does my help come? My help comes from the LORD, who made heaven and earth." (Psalm 121:1-2)
"Fear not, for I am with you; be not dismayed, for I am your God; I will strengthen you, I will help you, I will uphold you with my righteous right hand." (Isaiah 41:10)
"The Lord is my strength and my song, and he has become my salvation; this is my God and I will praise him." (Exodus 15:2)
"But I have trusted in your steadfast love; my heart shall rejoice in your salvation." (Psalm 13:5)
—-
Conclusion
In the book of Hebrews, the writer reminds us that "Jesus Christ is the same yesterday and today and forever" (Hebrews 13:8).
Because Jesus Christ never changes, we can be encouraged in knowing that he is always with us. He was with us when we felt utterly alone and wanted to end things. He is with us even as we are currently walking through the storms. And he will be with us when we have to face all of the things that are impossible for us to handle on our own.
By the grace of God alone I am here today to testify of the goodness of Jesus. Every day is a battle, and every day I struggle with some form of my mental illness. But every day I'm able to take the tools God has given me to persevere through it. I have a purpose for continuing on. I have active ways to work through each struggle. And I have a community of support for my mental health.
But ultimately, I have Jesus.
As the prophet Isaiah speaks for the Lord:
"Fear not, for I have redeemed you;
I have called you by name, you are mine.
When you pass through the waters, I will be with you;
and through the rivers, they shall not overwhelm you;
when you walk through fire you shall not be burned,
And the flame shall not consume you."

Isaiah 43:1-2
A Note from the Editor
While some of you may resonate with these stories and experiences, we understand that no two stories are the same. Our enemy is cunning and knows exactly which lies to whisper in our ear to pull us back into isolation and depression. The Word of God is living and active (Hebrews 4:12), and we encourage you to wield it as a sword against the lies of the enemy—but don't do it alone. There are times when we are so weary from battling the lies of the enemy that we don't have the strength to stand. Ecclesiastes 4:9 says, "Two are better than one, because they have a good reward for their toil." Find friends and community who will speak God's truth to you and over you. You are not alone in this fight.

In his infinite wisdom, God has chosen to work through ordinary people to accomplish his eternal purposes for our good and his glory. Don't be afraid to ask for help. I mentioned Ecclesiastes 4:9 earlier; the very next verse says, "Woe to him who is alone when he falls and has not another to lift him up!" Too often, we wait until we have fallen and have no one to lift us up before we seek help. God can work through organizations and resources like these to provide you with the tools and friends you need to ensure you have help when you need it. And if we can pray with you and for you, we would love to do so. You can submit your prayer request here. If you need to speak with someone immediately, please call the National Suicide Prevention Lifeline at 800-273-8255.
Footnotes
1 Psalm 113:13-14
2 Matthew 9:12; Mark 2:17; Luke 5:31
3 Revelation 21:1-5
4 Matthew 11:28-30
Photo credit: Emilee Carpenter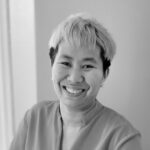 Hannah is a web designer and music teacher in the Ocean State, Rhode Island. Hannah is a classic Enneagram 7, always on a new adventure or project. Her heart is for mental health advocacy within the church and minority communities. Hannah is the oldest of 11 and is a transracial adoptee. She loves sipping tea with friends, climbing mountains, playing piano, and dreaming up new ways of reaching people with the gospel through creativity. You can find Hannah documenting her grief journey as an adoptee over at @filipinaadoptee93.